From "Rising Star" to "High-Powered Success," dB Control continues to set standards for performance and reliability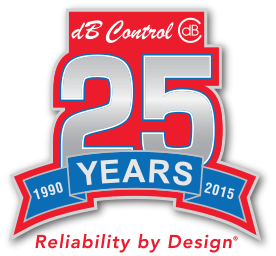 dB Control was founded in 1990 by Joe Hajduk, an innovative electrical engineer, and Peter Dahl, an electronics manufacturing specialist, to produce high-voltage power supplies and traveling wave tube amplifiers (TWTAs) that were more reliable and less expensive than existing products. With only a prototype to show prospective customers, the pair received their first order from major defense contractor Tracor Aerospace (now BAE). Three years later, Defense Electronics Magazine named the young company a "Rising Star, one of the industry's best and brightest" for "establishing high standards in the defense electronics market, continuing to advance technology and finding financial success by adapting to changes in traditional military markets."
Over the years, dB Control continued to introduce innovative TWTAs, including the industry's first environmentally sealed, ruggedized, hub-mount TWTA providing 300 Watts of continuous wave (CW) power over a 6 - 18 GHz bandwidth, and the first TWTA providing one kilowatt CW over a 34 - 36 GHz bandwidth with a six-percent duty cycle.
Industry Takes Notice
dB Control expanded their facilities to 40,000 square feet in 2007 after announcing the signing of the largest defense contracts in the company's history. After unveiling an advanced suite of new TWTAs for ECM transmitters in 2008, dB Control's products were profiled in the Journal of Electronic Defense, Microwaves & RF, Microwave Product Digest, Military Embedded Systems and US Tech. dB Control was also featured on the front page of The Silicon Valley/San Jose Business Journal for their low-key approach to high-powered success and named one of the 70 fastest growing private companies in Silicon Valley for 2009.
Despite the recession, dB Control's 2009 sales accounted for the largest annual increase in the company's history. In 2010, dB Control was acquired by HEICO Corporation. HEICO Chairman and CEO Laurans A. Mendelson said, "dB Control is a unique company which offers HEICO more participation in a growing part of both U.S. and non-U.S. defense budgets as defense agencies rely more on high power radar and electronic warfare systems. We believe that dB Control's strong position in these growing markets, combined with its high-technology capabilities, should provide for additional growth."
Today, dB Control continues to lead the industry with wide-bandwidth, high-power TWTAs and microwave power modules (MPMs) for on-board jammers and electronic warfare (EW) systems, as well as for radar-enabled systems including synthetic aperture radar (SAR), high-power threat detection, avoidance and targeting platforms. dB Control's products, recognized for extremely good amplitude and phase stability, are known throughout the industry for excellent reliability even when operating in the harshest environments.