Case Studies
Repair Depot Services for AN/ALQ-172 Jammer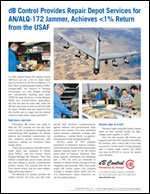 In 1996, Warner Robins Air Logistics Center (WR-ALC) put out a bid for repair depot services for the U.S. Air Force's AN/ALQ-172 Pave Mint Countermeasures System (CMS). Teledyne-MEC, the division of Teledyne Technologies, Inc. that designs, develops and manufactures Traveling Wave Tubes (TWTs) for radar, Electronic Counter Measures (ECM) and communications applications, won the bid.
[ Full Story ]
---
Airborne Radar Mapping Applications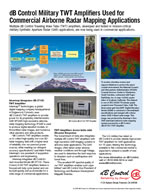 Intermap Technologies, a global digital mapping company headquartered in Englewood, Colorado, uses dB Control's TWT Amplifiers to provide power for its proprietary Interferometric SAR (IFSAR) high-resolution airborne radar mapping technology. IFSAR is used to produce digital elevation models, orthorectified radar images, and numerous other elevation and data products.
[ Full Story ]
---
Lessons Learned from Hezbollah Attack
The Middle East erupted into violence on July 12, 2006 after Hezbollah guerrillas crossed the Israel-Lebanon border and captured two Israeli soldiers. What followed was 33 days of intense fighting between Hezbollah and Israel. Late in the evening on Friday, July 14, Hezbollah fired two Iranian-made C-802 anti-ship missiles (a variant of the Chinese Silkworm missile) toward the Israel Navy Ship (INS) Hanit. This Saar 5-class Corvette, carrying several dozen sailors, was patrolling the Lebanese coast 16 kilometers from shore.
[ Full Story ]
---
UAVs Powered by dB Control Products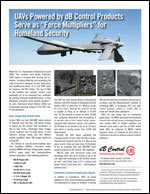 Within the U.S. Department of Homeland Security (DHS), the Customs and Border Protection (CBP) agency is charged with securing the U.S. borders, including detecting and preventing the entry of terrorists, weapons of mass destruction, and unauthorized aliens. In its July 2008 report for Congress, the DHS stated, "The use of UAVs on the northern and southern borders could potentially act as an important force multiplier by covering previously unpatrolled areas, or more effectively surveilling areas already patrolled." As such, Unmanned Aerial Vehicles (UAVs) are increasingly becoming integral to the DHS' day-to-day operations.
[ Full Story ]
---